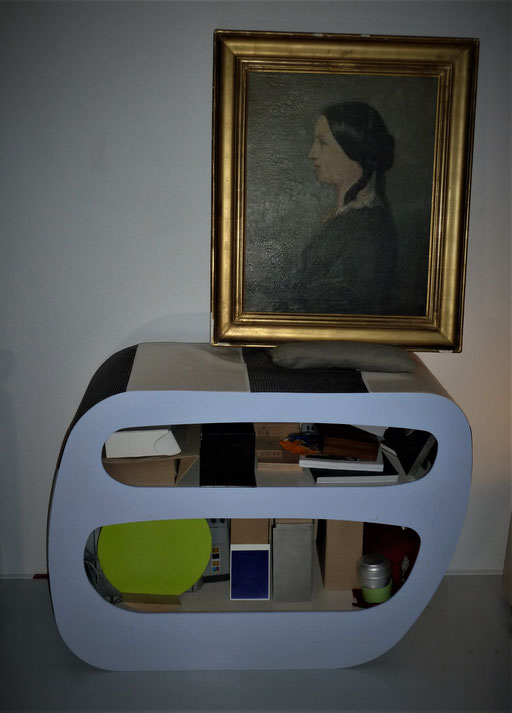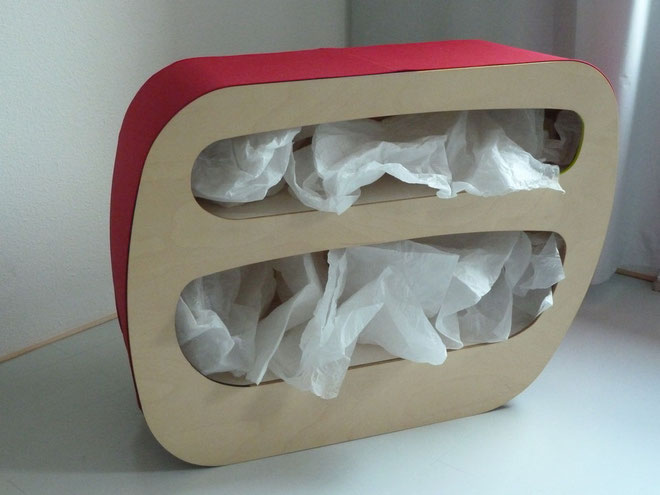 sideboard out of birch plywood and modeling plywood.. Sideboard aus Multiplex Birke und Flugzeugsperrholz. Commode en contreplaqué bouleau et matériel de modélisme.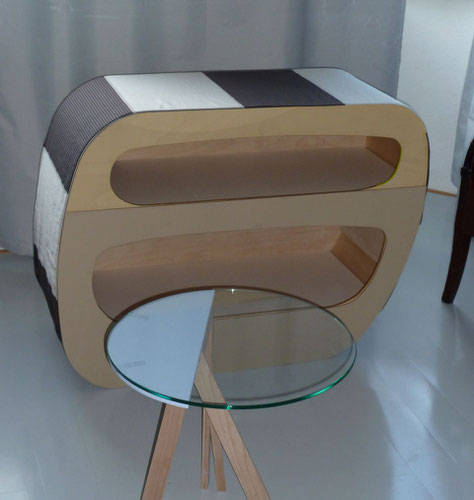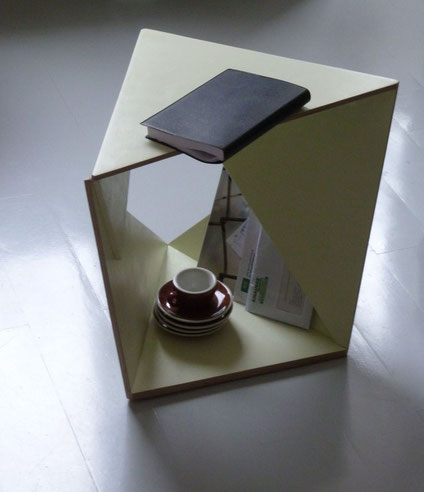 XYZ2 side table laquered plywood 45/35/42 cm l/w/h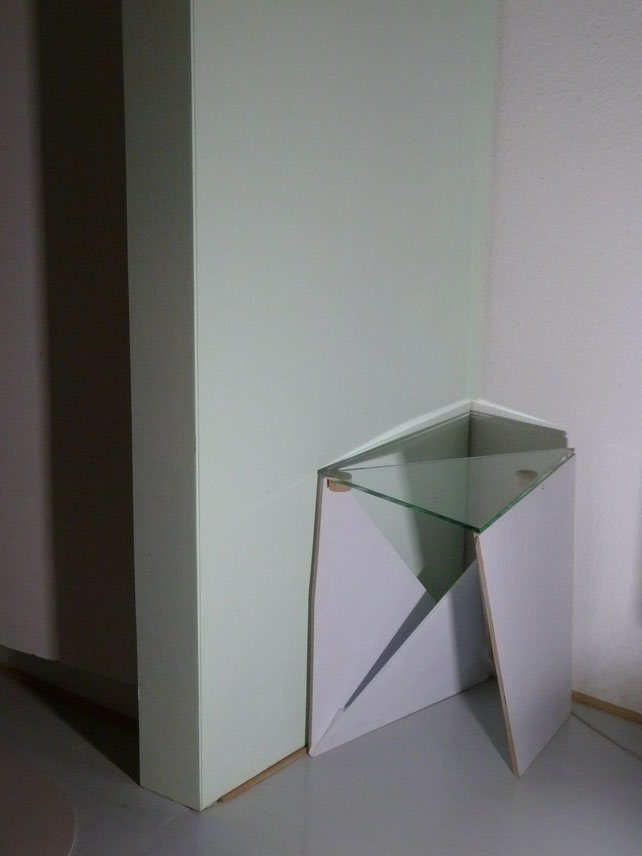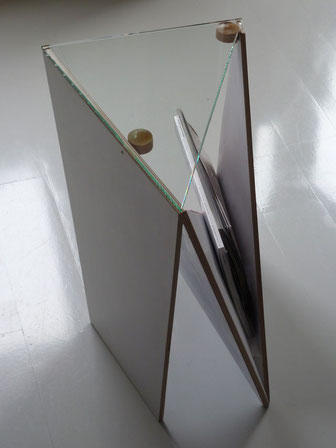 XYZ1 side table laquered plywood glas 48/40/32cm h/l/w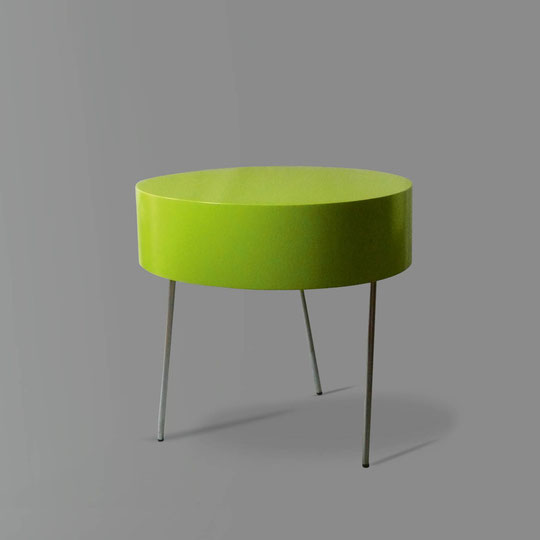 wooden side tables, laquered mdf, free form, app.53x53x45(51) l/w/h, legs; stainless steel or wood. coloür, height and legconfiguration  can be custom made- Beistelltische, Mdf lackiert, 2 variaanten, 2 Höhen 51/45 cm, Farbe, Höhe und Bein varianten sind austauschbar. tables de chevet, mdf peint, pieds inox ou bois, 2 hauteurs 51/45 cm, couleurs, hauteur et pieds sont interchangeables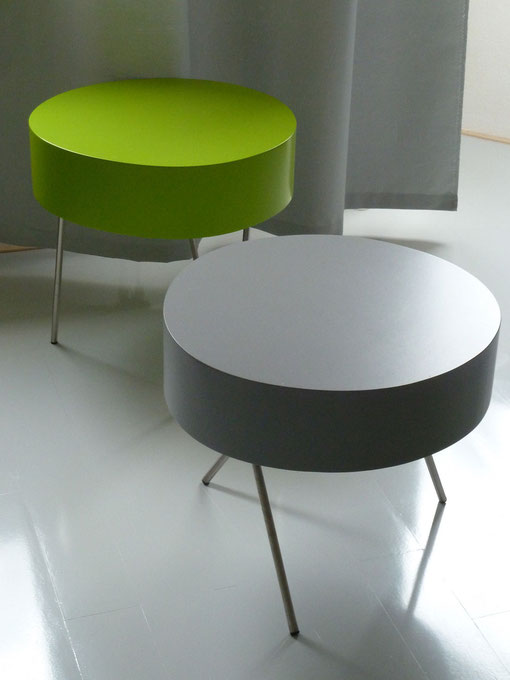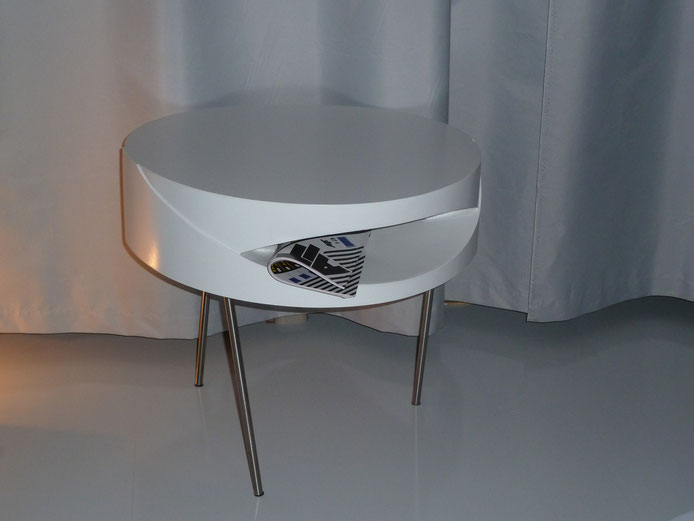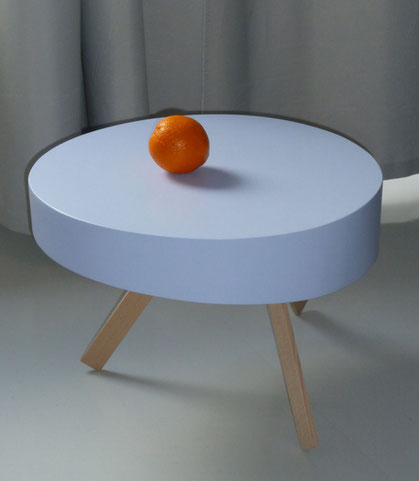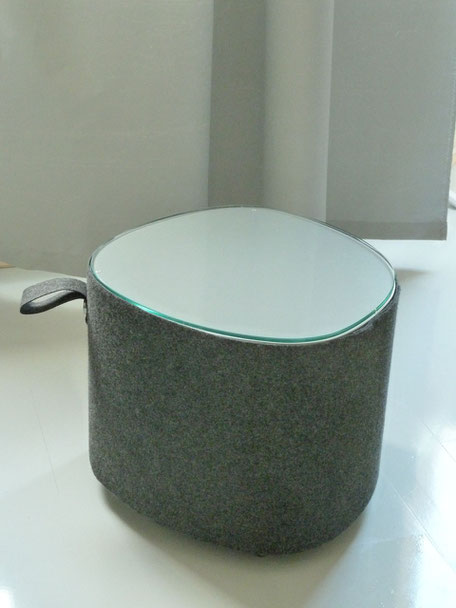 on castors ca.40x43x37 cm l/w/h wooden carcasse, wool felt, glastop, free form- Rolltisch, Holzkörper, Wollfilz, Glasboden, freie Form (amorph)- table roulante, carcasse en bois, feutre de laine, couvercle en verre, forme libre (amorphe)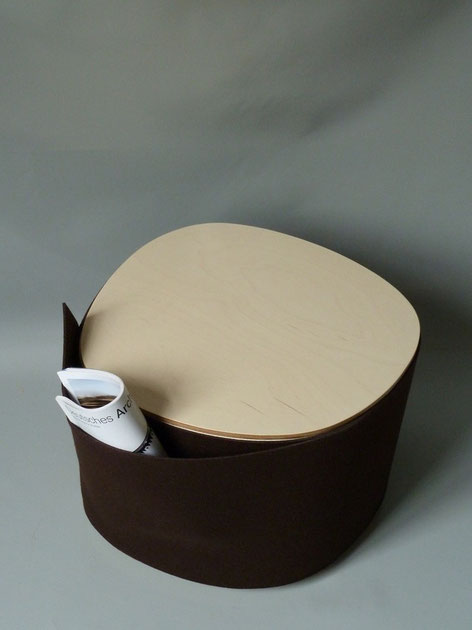 side table on castors (with kangaroo pocket). carcass out of birch plywood, cover made of a 6 mm wooden felt that can be taken awa for cleaning/ Beistelltisch auf Rollen mit Kangurutasche. Körper aus Multiplex Birke, bekleidet mit einer 6 mm Wollfilz, die zum Reinigen abgenommen werden kann. /table sur roulettes, contreplaqué bouleau recouvert d'une couverture amovible en feutre de laine 6 mm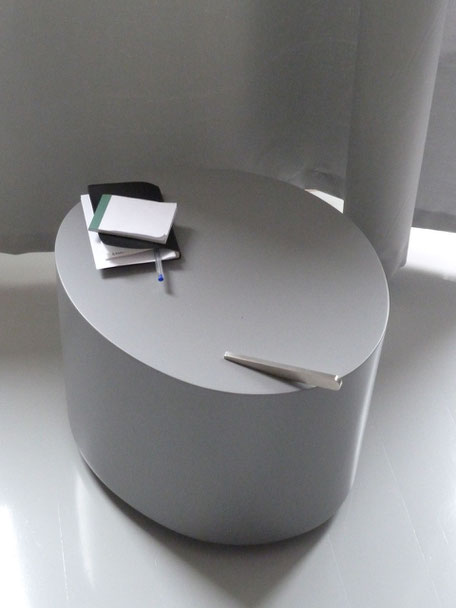 titanic : on castors, laquered mdf, stainless steel- Rolltisch, Mdf lackiert, Edelstahl- table roulante, mdf peint, inox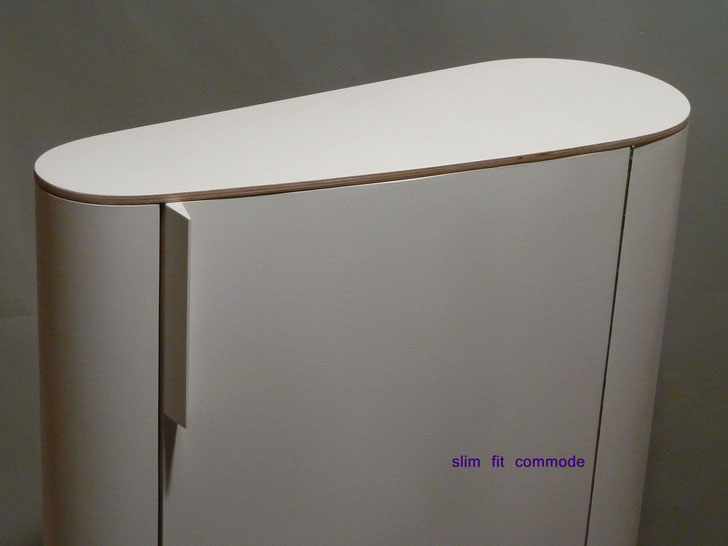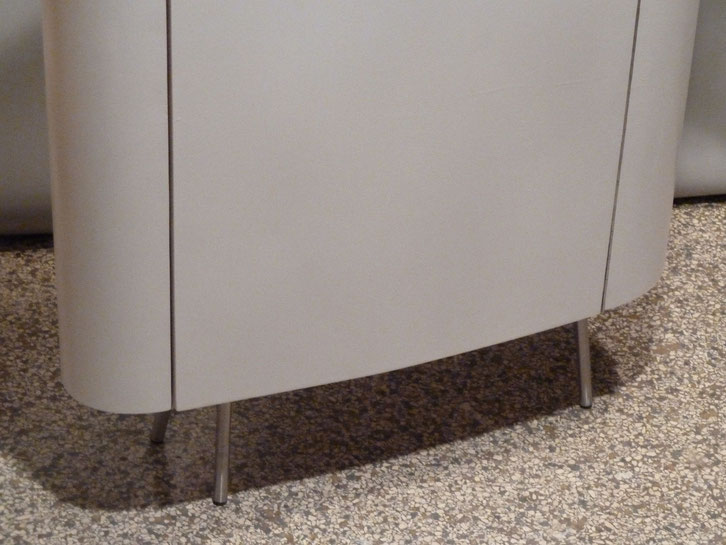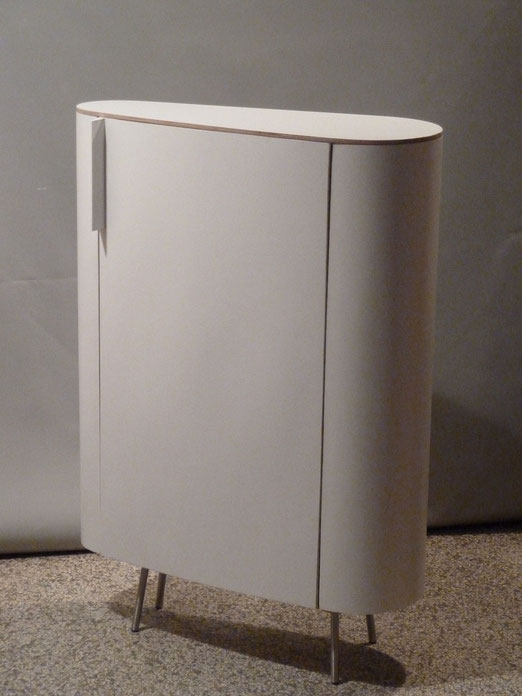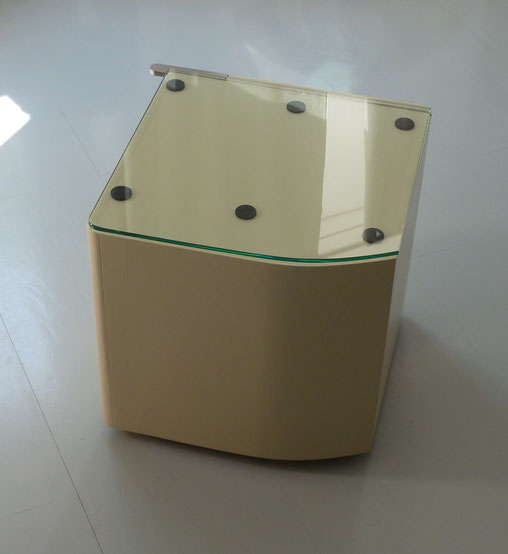 "dé " 36 x36 x38  B/L/H on castors, with drawer, laquered mdf, glass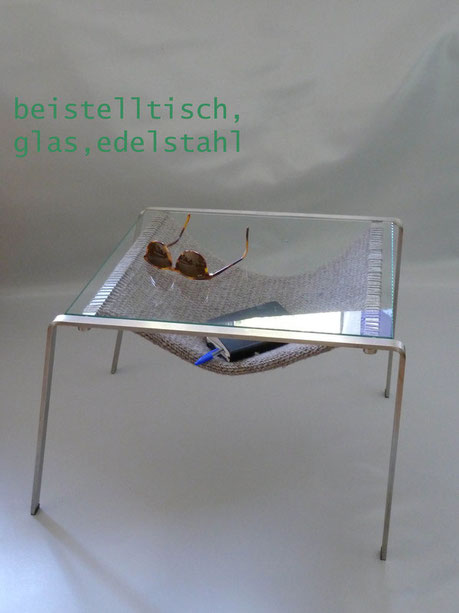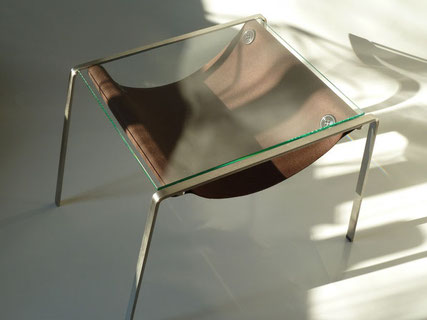 side table 52/48/41 cm l/w/h  glass, solid bent stainless steel blanks and woolfelt shelf or Knitwear, or PVC outdoor Version (here green colour). A leather Version is being working on, and any other textiles suggested by the customer can be used. Massive gebogene geschliffene Edelstahlflachprofile,Glas und eine Textilablage: oben rechts 3mm Wollfilz, links Strickwolle, oder auch als outdoorfähige Variante mit LKW-Planstoff in verschiedenen Farben. Ein Model mit Leder ist in Planung.Kundenspezifische Stoffvorstellungen sind möglich. Acier inox plat poli, verre, rangement en tissu: ci.dessus à droite 3mm feutre de laine, à gauche tricot pure laine, ou encore pour l'extérieur: toile de bâche de camion, différents coloris, variante cuir en préparation. Toute préférence concernant le tissu peut être prise en considération.